Due to the COVID-19 pandemic, nearly a million of us with Parkinson's in the United States have had to switch to telemedicine for our neurological checkups; checkups that are usually a very touch-based process. This new disconnect can leave a lot to be desired of these semi-annual appointments. Our doctors rely on a thorough neurological examination to determine changes in symptoms since the last visit, and while they are doing their best to adapt with the tools at hand, the resulting treatment isn't optimal.
Three years ago, when I created my Parkinson's Lifekit app for those of us who wanted to track our symptoms over time, I could never have imagined that it would come particularly in handy during a pandemic. But it has done so brilliantly! Parkinson's LifeKit tracks a range of physical, cognitive, and psychological symptoms and makes it easy to report these to our neurologists. Armed with multiple tangible data points, our doctors can better understand changes in symptoms and make recommendations around optimizing medications, increasing fitness, and other life improvements. Even from miles away.
Virtual visit with my neurologist
When the time came to visit my neurologist via the MyChart app, I presented him with all of the data the app had collected in an easy-to-read format, allowing for a more personalized experience. The app let me print out a one-sheet of all my ups and downs for the past six months. This gave my neurologist a clear view of how my body has been treating me in response to medicine, exercise, stress, and more.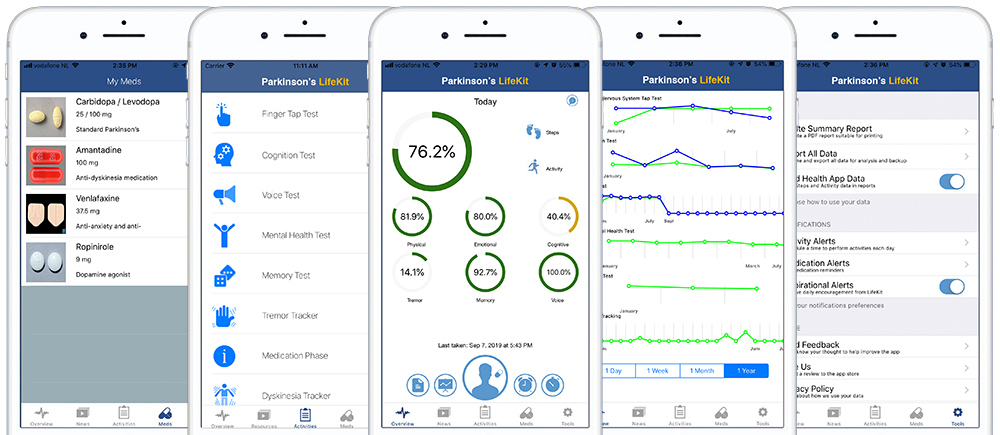 An all-in-one control center
I've been sharing personal medical data with all of my doctors for a long time. One of the biggest reasons I created this app was that I used to use a dozen apps to do what Parkinson's LifeKit does in a single app. Plus, I'm always adding new features, like tracking dyskinesia and tremor, so I'm always adding value.
I wanted to make things simple and economical for fellow Parkies, so once you buy the app, you get updates for life for free. Yes, it costs money – $20 – but everyone I've spoken to has said that's a bargain for everything you get. Most developers out there give you their app for free but they take your data and use it in ways you may disagree with. Parkinson's LifeKit is all about privacy, security, and you owning your own patient data.
I'd like to hear from you!
I'm always excited to hear from fellow Parkinson's Warriors, especially now during this pandemic. Please drop me an e-mail if you have any questions, concerns, ideas, or just want to say hi! I reply to all of my e-mails. nick@parkinsonswarrior.com.
Check out the app below:

Dear Reader: We hope you enjoy the articles and other content on Parkinson's Warrior, including our YouTube channel, our Facebook group, our app, and much more. If you would like to support us, please consider buying one (or all) of the Parkinson's Warrior books, available from Amazon or by order at your local bookstore. We thrive when you thrive!
Nick Pernisco is the Parkinson's Warrior, a person with Parkinson's who has dedicated his life to helping others with Parkinson's. Get the Parkinson's Warrior book here. Join the discussion on Facebook.