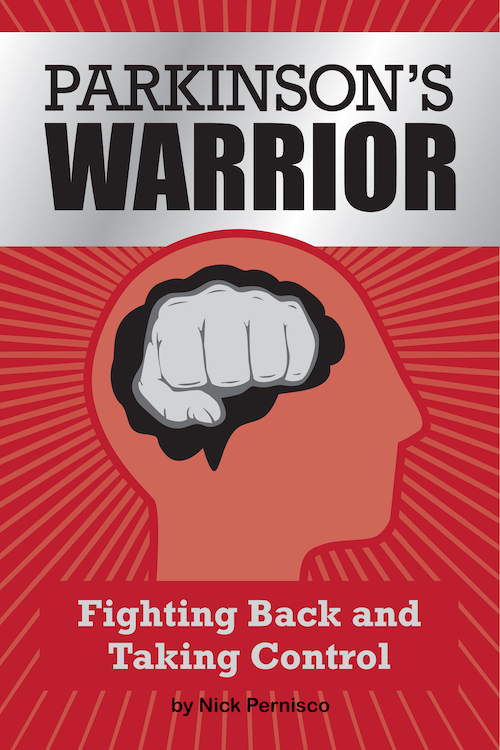 I'm proud to announce the release of my new book, Parkinson's Warrior: Fighting Back and Taking Control. Here is the description!
Nick Pernisco was busy with a promising academic career when a Young Onset Parkinson's diagnosis at age 33 upended his carefully laid plans and almost derailed his life. This is the story of how he learned to cope and thrive – through education, self-care, and the power of adopting a warrior mentality.
PARKINSON'S WARRIOR provides information and inspiration for all People with Parkinson's to live a better, happier, and healthier life. Through the lens of his experiences and learnings, Nick shows you how to move past grief to fight back and take control, so you too can become a Parkinson's Warrior.
From the introduction:
There are at least one million people diagnosed with Parkinson's disease in the United States and up to 10 million around the world. This means that, including loved ones, there are more or less 100 million people affected by this disease worldwide. You may be one of these people.
Perhaps you have just received a diagnosis, or perhaps you have known for years. Perhaps your husband or wife has been diagnosed with Parkinson's, or perhaps it was your father, grandfather, mother, grandmother, son, or daughter. Perhaps you are a friend of someone who has just been diagnosed. This is a disease in which the more you know, the better you'll live your life. Understanding how those of us with Parkinson's should take care of ourselves, how to fight the daily battles, and how to develop a long-term plan for living well will help us lead better lives. This book will provide those of us affected with the tools we need to take control of the illness and improve our lives.
When I was first diagnosed, I went through a long spell of depression and uncertainty. Before Parkinson's, I thought I had my life figured out, but everything I was working toward went out the window after receiving the diagnosis bombshell. I felt like my life was over and I was emotionally lost. Faced with the prospect of having a shorter amount of time to work in my career, to do everything on my "bucket list,", or even worse, of becoming disabled before I could do anything more with my life, I frantically jumped into every new thing at which I thought I could succeed. I thought I had to have new experiences and check off all of the items on my bucket list before it was too late. I tried going back to school several times, I started a new company, I ran for public office, and I did many more zany things. I overwhelmed myself, and I eventually burned out. That was when I decided I needed to change how I approached the treatment of my disease, but more importantly, how I approached life. I wasn't the same person before being diagnosed, and things needed to change if I wanted to be happy and as healthy as possible.
I learned everything I could about Parkinson's, and became an expert patient. I read all of the books about Parkinson's, both for patients and for professionals in the field. I read all of the latest research and began keeping track of all of the new treatment options. After a few months, I knew more than enough to have an intelligent and productive discussion with my medical team. I could work with them, for example when they would suggest a new medication, and we would be able to have a lively debate during our appointments. I learned all about medications, supplements, exercise, nutrition, and everything else related to the disease and its progression. I developed my own system for tracking the various aspects of the disease, and eventually developed a mobile app that made it easy for me to keep track of the various aspects of the illness.
In addition to information, I believe all PWPs need some inspiration in their lives. Life with Parkinson's doesn't need to be about living life with negative feelings. There are ways to live a happy life while also living with Parkinson's. My hope is that my story will serve as an inspiration to you and that my experiences can help guide you and make life a little easier.
Dear Reader: We hope you enjoy the articles and other content on Parkinson's Warrior, including our YouTube channel, our Facebook group, our app, and much more. If you would like to support us, please consider buying one (or all) of the Parkinson's Warrior books, available from Amazon or by order at your local bookstore. We thrive when you thrive!
Nick Pernisco is the Parkinson's Warrior, a person with Parkinson's who has dedicated his life to helping others with Parkinson's. Get the Parkinson's Warrior book here. Join the discussion on Facebook.